Course Overview
The Diploma in International Hospitality Management (DIHM) is an 18 Months duration course with the curriculum framework exclusively drafted by the Confederation of Tourism and Hospitality (CTH), UK. As the leading hotel management college in West Bengal, IIAS is the only licensed and approved teaching centre of CTH in the entire Eastern India region. Realizing the exigency in and around North Bengal, IIAS is offering this globally recognized programme thus opening avenues of career success for students from the region in the hospitality and tourism sector worldwide.
This course is designed for all the aspirants who want to excel in the hotel industry by developing industry-relevant skills as well as gaining an essential grounding in management principles for direct entry to trainee positions in the industry.

About Confederation of Tourism & Hospitality (CTH)
The Confederation of Tourism and Hospitality is the UK's leading specialist professional awarding body for qualifications in the growing hospitality and tourism sector. Established in the year 1982, CTH is a specialist professional awarding body, which focuses on the training needs of new entrants and existing industry professionals. CTH awards are widely recognized as the Gold standard qualifications for Hospitality, Culinary & Tourism.
CTH is an awarding body approved by Ofqual, DCELLS and CCEA who are the official regulator of qualifications, exams and tests in England, Wales and Northern Ireland respectively.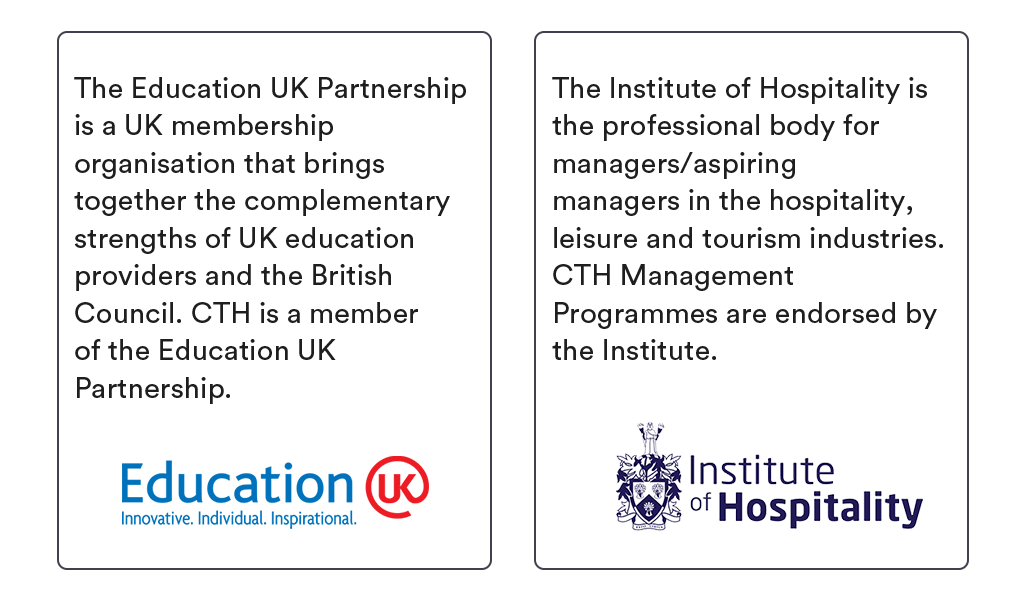 Go further with higher studies
Students may use the Level 4 CTH Diploma as a pathway to advanced study, typically progressing on to the CTH Level 5 Advanced Diploma. Since the Level 4 Diploma is designed to be broadly equivalent to that of the first year of a bachelor's degree, students may use the qualification to apply for credit entry to a number of bachelor degree programmes at selected universities worldwide in countries like - United Kingdom, Australia, Malaysia, UAE, New Zealand and Switzerland, to name a few. For more information please visit: www.cthawards.com/university-pathways/
Course Information
DUAL AWARD:
By IIAS and CTH, UK
---
ELIGIBILITY:
Class 10+2 pass with English
---
ABOUT THE COURSE:
The Diploma in International Hospitality Management course provides students with the skills and essential knowledge that will enable them to adapt well in any global setting. The CTH Level 4 modules combine practical career-based elements with a number of essential underpinning management disciplines that will be invaluable as the individual career progresses. The course is therefore an ideal preparation for immediate employment in the sector. Combined with IIAS' rich history of academic excellence in hotel management, students will also learn the relevant hands-on skills unique to Indian hospitality services.
Students achieve the guided learning hours in a combination of face-to-face classroom interactions, attending seminars, visits to hotels, self-study and group study as well as research work.
PREPARATION FOR THE INDUSTRY
Hands-on learning is emphasized in our state-of-the-art practical labs to ensure students are well-updated regarding the latest developments in the field of global hospitality.
Experiential learning is one of the core learning attributes, the students are granted the liberty to innovate and experiment under the guidance of experienced faculty.
The hospitality industry demands parallel learning, therefore exposure is provided to the students in the four core areas of Food & Beverage Service, Front Office and Accommodation Operations with the help of simulation and real-life situations.
Management subjects provide the student with holistic understanding and required business acumen necessary to succeed in the modern workplace.
Realising the need of the hour, the curriculum also includes special English communication sessions which run round the clock during the course duration.
To keep our students motivated and confident, students learn from industry experts and trainers who are invited from time to time.
REAL-WORLD EXPERIENCE: Students are further provided with an opportunity to refine their skills and experience the real world during their industrial training of 20-24 weeks in leading hotels, resorts, hospitality chains, etc. Opportunities are available both in India and abroad through our placement partner agencies.
LANGUAGE PROFICIENCY: Students entering the programme whose first language is not English or students whose medium of instruction in their Class 12 or equivalent was not English will be required to demonstrate a proficiency in English by appearing for the IIAS English Proficiency Test.
Study Plan
The course of study is tailor- made, as it has been assimilated keeping in mind the trends and the various advancements in the field of hotel industry. The curriculum is of global standard and also acts as a catalyst in delivering the curriculum which is in sync with the industry. The module prescribed by CTH is rigorously adopted by the institution and with some value added modules such as English Communication and IT Skills.
The course offers multiple core subjects that run parallel in three trimesters.
Trimester - I
Food and Beverage Production
Food and Beverage Operations
Front Office Operation
Accommodation Operations
Basics of Computer
English Communication
Food Production Lab
Food and Beverage Service Lab
Front Office Operation Lab
Accommodation Operation Lab
Computer Skills
---
Trimester - II
Rooms Division Operations
Rooms Division Supervision
Food and Beverage Operations
Food and Beverage Supervision
English Communication at Workplace
Food and Beverage Service Lab II
Front Office Operation Lab II
Accommodation Operation Lab II
---
Trimester - III
Finance in Tourism and Hospitality
Customer Service Management in Tourism and Hospitality
Global Tourism and Hospitality
Personality Development & Presentation Skills
Food and Beverage Service Lab III
Front Office Operation Lab III
Accommodation Operation Lab III
---
FAQs
WHAT KIND OF JOBS WILL I GET AFTER COMPLETION OF THE COURSE?

Students who complete our Diploma in International Hospitality Management program typically find jobs in various positions in 5-star hotels, restaurant chains, cruise liners. You can aim to be a management trainee, customer relations executive, marketing/sales executive, kitchen manager, housekeeping manager and catering officer.

Career options in hospitality are not limited to traditional hotel and restaurant businesses. Hospitality graduates are highly valued in service sectors such as tourism, retail, finance, healthcare and technology where customers and employers quality service and experience.

WHERE DO STUDENTS DO THEIR INTERNSHIPS?

Students who undergo the DIHM program at IIAS undergo internships after their 3rd Trimester in leading hospitality establishments across India and full assistance will be provided to those who wish to complete their internship abroad. The Student Career Services Cell assists the students in finding the right opportunities right after completion of their 2nd Trimester. Internships are mandatory and awarded the appropriate number of credits as per the International standards.

CAN STUDENTS CONTINUE THEIR STUDIES ABROAD?

Yes, a student who has completed this course is eligible to continue their further studies at a list of colleges under CTH.

HOW IS THIS A GAME-CHANGER?

Firstly, the course has a lot to offer. Let us discuss a few :

The certificate awarded has worldwide recognition, which means your certificate will be accepted anywhere in the world
You get to study the curriculum of global standards.
You are eligible to continue your studies in any university across the globe.

Here is a few of the colleges abroad where you can continue your course:

You are also eligible for employment anywhere in the world.
Array
"It was a beautiful journey with lot of learning at IIAS School of Management, Siliguri. It was also an honour to be a part of the IIAS family.
Thanks to the college and a special thanks to my teachers and the team members of IIAS, for giving me an opportunity to start my carrier in Food and Beverage service at the Hotel Trident, Hyderabad."
Ajay Kumar Suman
BHM '15-'18
"It was a beautiful journey with lot of learning at IIAS School of Management, Siliguri. It was also an honour to be a part of the IIAS family.
Thanks to the college and a special thanks to my teachers and the team members of IIAS, for giving me an opportunity to start my carrier in Food and Beverage service at the Hotel Trident, Hyderabad."
BACK TO TOP
Placement Information
With strong links to the industry, proper guidance and mentorship are provided by the Student Career Services Cell, which is responsible for students placement. CTH qualified students are well placed to build exciting and rewarding careers, whether working with a major global chain, a specialist 'boutique' hotel or developing their own hospitality-based private business.
They are provided with an ample number of choices to choose from global, well-reputed properties. If the student desires a global placement, full assistance is extended by the Institution. Some of the prominent recruiters include:
Additionally upon completion of a CTH qualification, students are offered discounted membership of the Institute of Hospitality. The main benefits of IoH membership for graduating students are:
On-going career development within the industry and unique networking opportunities with senior practitioners.
The ability to add IoH post-nominal letters after their name, giving them due recognition of their learning and stature within their chosen industry.
BACK TO TOP